A platform for all your audio
Your music. Your podcasts.
Enjoy anywhere, share with anyone.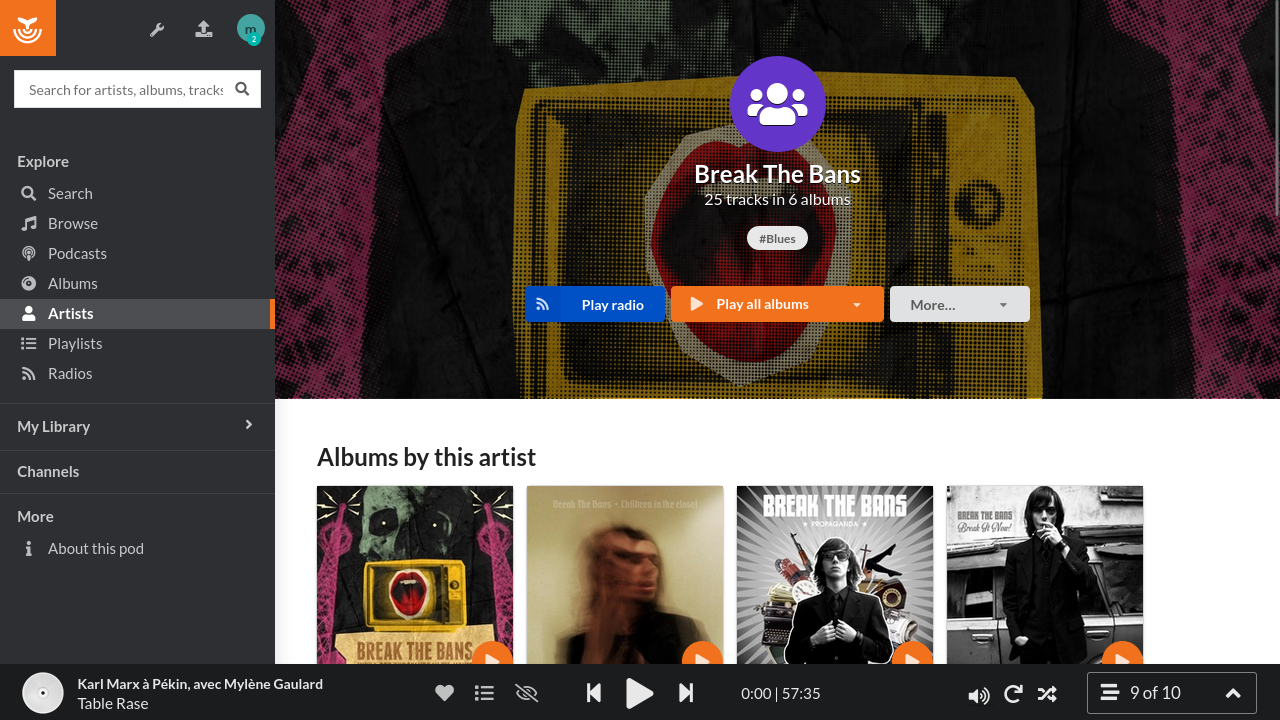 For music lovers
Access your personal music collection from anywhere. Funkwhale supports advanced sharing features to promote Freely licensed content.
For artists and podcasters
Publish your music and podcasts on Funkwhale. Let people follow your releases or subscribe to your podcast in their favorite podcatcher.
Decentralized & Federated
Content can be shared across instances, or moderated to restrict bad actors. The network is not tied to any corporation or entity, so you have total independence.
Community-driven
Free software build by the community using standard protocols and open-source technology. No third-party analytics. No tracking. No ads. You are in control.
Your music and podcasts, anywhere
Listen to your music and podcasts from your web browser, or a wide range of compatible apps for every platform. This includes the Subsonic client of your choice and your favourite podcast app.
Share your music library
Share your playlists and albums, or whole parts of your library, with your friends and family. Promote free art by sharing it with users on your pod, or with the entire Funkwhale network.
Extend your horizons
Explore the content shared by the community to discover new artists and podcasts. Keep tracks of your favorites in your library.
Publish your work
Create channels for your music or podcast and let people get notified of your latest releases. Use our export widget to embed your content on other platforms and websites.
Get started
Sign up on a pod to upload your music library, share it, keep track of your favorites, and more! Each pod has its own rules and conditions, but thanks to federation you'll be able to share content with other people regardless of which pod they're using.
Join an existing pod
The easiest way to start using Funkwhale is to register an account on one of the many available pods.
Start your own pod
Running your own pod requires some system administration skills, but also gives you more independence and control.
Third-party hosting
If you'd prefer to have someone else host your pod for you, here are a few providers who offer hosted solutions:
Support Us
Funkwhale is a community-driven project maintained by a non-profit organization called the Funkwhale Collective. We strive to make Funkwhale better and there are many things you can do to help!